Smooth Airport to Hotel Transfers with ACT Sri Lanka
Welcome to Sri Lanka with ACT Sri Lanka!
We extend a warm welcome to the beautiful island of Sri Lanka. At ACT Sri Lanka, we are delighted to offer you a hassle-free Airport to Hotel Transportation service upon your arrival in our vibrant country. Your comfort and convenience are our top priorities, and we're here to ensure your journey starts off on the right foot.
Your Reliable Transfer Solution
Whether you're a solo traveler or arriving with a group, we have the perfect transfer solution for you. Our comprehensive fleet of vehicles is designed to accommodate varying group sizes and preferences. From cozy cars to spacious vans, we have you covered.
To provide you with utmost transparency, we've outlined our pricing structure below. Please note that the prices are per vehicle and not per person. If you're looking to calculate the per person cost, simply divide the given vehicle price by the number of passengers. Rest assured, regardless of the number of passengers, the vehicle price remains the same.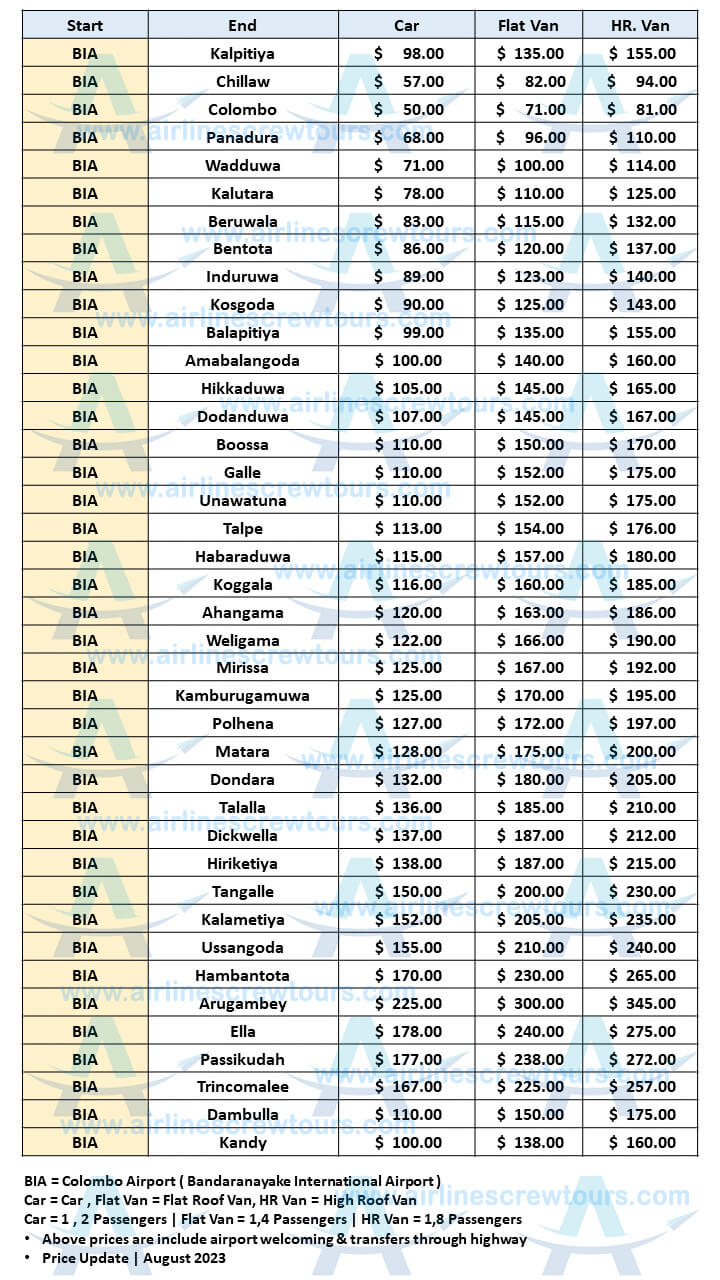 We understand that each traveler's needs are unique, which is why we offer a range of vehicles for your convenience:
Car: Ideal for 1 to 2 passengers. Brands include Toyota Axio, Prius, and Honda Fit Shuttle.
Flat Roof Van: Perfect for 1 to 4 passengers. Brands include Toyota KDH and Nissan URVAN.
High Roof Van: Suitable for 1 to 8 passengers. Brands include Toyota KDH and Nissan URVAN.
Luxury Sedan Cars – Mercedes-Benz (Can be arranged upon request)
Luxury Sedan Vans – Mercedes Vito (Can be arranged upon request)
Our pricing covers all essential aspects of your transfer, including:
Vehicle with fuel
Highway charges
Airport paging
Driver fees
Professionally Trained Drivers
Safety is paramount, and that's why our drivers are seasoned professionals with over 5 years of experience catering to tourists. Your transfers are in capable hands.
Booking your transfer is a breeze. Reach out to us via email or WhatsApp by simply clicking on the icons below. Unfortunately, instant booking is not available. We kindly request you to notify us at least 24 hours in advance to arrange your transportation.
We understand your preferences when it comes to payment. You have the flexibility to pay in either USD or LKR. For the most up-to-date exchange rates, a quick Google search on your travel date is recommended. Please note that we only accept cash payments to our driver upon arrival.
Safe and Comfortable Journey
Rest easy knowing that all our vehicles are equipped with passenger insurance. Your safety and peace of mind are of paramount importance to us.
For any further inquiries or to make a reservation, please do not hesitate to contact us. Your unforgettable Sri Lankan experience begins with a seamless transfer from ACT Sri Lanka.