Sri Lanka the wonder of Asia - Read and find out about it..
explore The Wonder of Asia
Sri Lanka is a slice of paradise on earth. A lush tropical island, known as the Pearl of the Indian Ocean, Sri Lanka offers a unique kaleidoscope of experiences within a tiny footprint. Everything from vibrant tropical beaches to serene hillsides, archeological treasures, wildlife safari adventures, seaside thrills and affordable shopping are all reachable within a few hours.
Sri Lanka is also known for its warm hospitality, ever smiling faces, world famous surf point breaks, herds of elephants, scenic train journeys, famous tea plantations and delectable food. Whatever your fancy, Sri Lanka can tickle it! Sri Lanka is also a major destination for wellness tourism, and is home to many exquisite Ayurveda health resorts and retreats. It's also a haven for adventure seekers and adrenaline junkies offering plenty of extreme sports and experiences such as white-water rafting, mountain climbing, water fall abseiling and amazing treks, hikes and plenty of other uniquely thrilling experiences. 
Find out more about Sri Lanka..
World famous for its beaches, no Sri Lankan beach holiday ever disappoints. Whether its surfing, sunbathing, swimming or water sports, Sri Lanka has a beach for them all. From laid back white sandy beaches with crystal clear waters to more happening beaches with plenty of good vibes, the island is a beach lover's paradise.The south coast and east coast are at their best at different times of the year. 
Although you can visit either year-round, the east coast is at its prime from May to October and south coast from November to April. The south is full of vibrant beaches full of fun and plenty of seaside activity.
Sri Lanka isn't new.
In fact, it's quite old with a documented history spanning over 3 millennia and human settlements dating back to at least 125,000 years ago. The island was also home to an advanced ancient civilization and so is a history buff's dream. The country is blessed with an abundance of natural beauty and biodiversity and is home to 8 UNESCO World Heritage Sites, which are distinct from each other with unique stories of their own.These include the Ancient Cities of Anuradhapura, Polonnaruwa and Sigiriya along with the Central Highlands, the Sinharaja Rain Forest, the Galle Dutch Fort, Dambulla Cave Temple and the sacred City of Kandy. Visiting these ancient sites, one can't help but look back through the ages to times gone by and ways of life long forgotten. 
So now you know why we say , Sri Lanka the wonder of Asia
GENERAL INFORMATION ABOUT SRI LANKA
Capital                                : Sri Jayawardenepura Kotte
Commercial Capital             : Colombo
Area                                       : 65,606 sq km
Population                            : 20 million
Languages                           : Sinhala, Tamil & English (English is widely used and understand in tourist areas)
Religion                                 :  Buddhism (69%), Hinduism (16%), Islam (8%), Christianity (7%)
Time Zone                             : GMT +6 Hours (Winter) | BST + 5 Hours (Summer)
International Airports         : BIA – Bandaranayake International Airport (35 km north of Colombo Capital)
                                                  HRI – Mattala Rajapaksa International Airport (250 km South of Colombo Capital)
Currency                                : LKR ( Sri Lankan Rupees ) 1 LKR = 100 Cents ( 1 USD = 197 LKR , 1 Euro = 233 LKR ) – Rates  might change daily
Banks                                     : Generally open 0900 – 1300 or 1500 from Monday to Friday. 24 Hours facilities are available in Airport, ATMs are located almost every City and they                                                            accept VISA, MASTER Cards.
Credit Cards                          : Most international credit cards are accepted in major establishments within and outside Colombo including almost all major hotels.
Climate                                  : Warm & Sunny year around with an average of 27 C in Colombo. Hill country districts  are generally around 10 C cooler. The best time to visit the west,                south and central highlands is October to March. After the southwest moon soon, while the East Coast is  best between May to September
Electricity                              : 220 – 240V, 50 Cycles A/C Round Three Pin Sockets
What to Wear                      : Lightweight cotton or linen clothing. Higher reaches of the hill country can get chilly at night so a sweater is recommended. While visiting Buddhist                                                               temples you have to cover your chest and knees. Hats and foot wear is not allow.
Transportation                      : Island wide, inexpensive railway and public / private bus services available. Personal transportations can be arranging through hotels or tour agents for                                                        reasonable prices. Commonly for short rides Tuk Tuks are recommending. (Always be mindful to use only tuk tuk with Meter in order to avoid issues.                                                             Generally, Tuk Tuk Charges are 50 or 60 LKR for  1st KM  and after that 30 or 40 LKR per traveling Kilometer. )
Medical Services                  : State owned hospitals in all parts of the country provide free medical and surgical  attention. 
Emergency numbers           : 118/119 – Police Emergency Hotline, 110 – Ambulance & Fire Rescue, 0112421052 – Tourist Police . 1990 – Emergency Ambulance Service 
Holidays                                 : Saturday, Sunday and every full moon day ( called Poya Day ) are holidays in Sri Lanka.
                                                  On Poya Days all public places of entertainments are closed and selling Alcohol is prohibited.
                                                   ( tourist hotels are allow to facilitate Alcohol only for inhouse tourist guests on poya days )
Tipping                                   : Generally Expected for most services
LGBT travelers                      : There is little understanding of gay issues in Sri Lanka – gays and lesbians are generally stigmatized and homosexuality is technically illegal 
                                                  (although no one has been arrested since 1950), so discretion is advised, and the whole scene remains rather secretive.
Internet                                 : Virtually every guesthouse and hotel in the country has wi-fi, as do many restaurants and cafés (although connections are often erratic). 
                                                The rise of  wi-fi means that there are fewer internet cafés than there used to be, although much larger tourist centers have at least one or two places. 
                                                If you have a laptop and need to be constantly connected, all Sri Lanka's telecom providers offer various mobile broadband packages.  
Photography                         :  Most Sri Lankans love having their photo taken – though it's obviously polite to ask. A  few of the island's more photogenic inhabitants might expect to be          paid to be  photographed, particularly stilt fishermen, when you can find them, and (occasionally)  tea pickers in the highlands. 
                                                At Temples :  You're not allowed to pose  for photographs with Buddha images (standing with your back to the  image), and photography is also generally          not permitted inside Hindu temples. 
                                                In addition, note that flash photography can damage old murals; if you're asked not to take flash photos, don't. And of course,  photographing soldiers or             military installations is asking for trouble.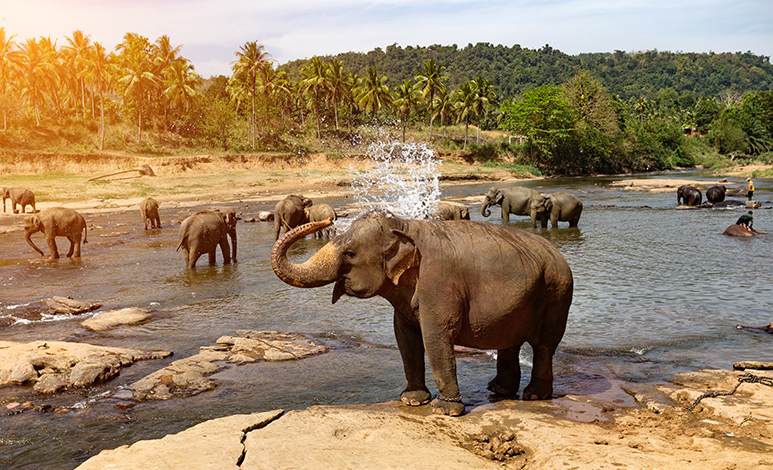 take a look at the marvellous sites and spots of Sri Lanka
As airline crew members you may have traveled to many countries. But we are sure, Sri Lanka will take special place in your heart with its own beauty and culture.
Welcome to Sri Lanka the wonder of Asia
Find out more details about interesting places in Sri Lanka
Airlines Crew Tours are ready to arrange your holidays as per your wishes and dreams.