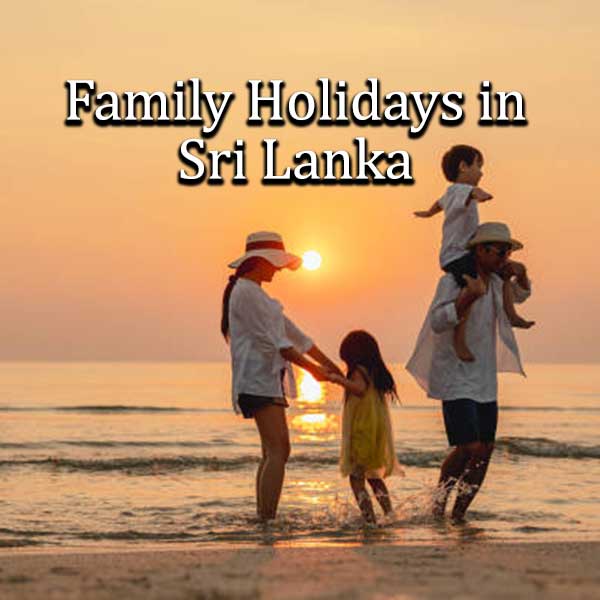 Family Holidays in Sri Lanka
Family Holidays in Sri Lanka in 2023. Plan your perfect family getaway to Sri Lanka! Explore family-friendly adventures, accommodations, and more for an unforgettable vacation.
Experience the Magic of a Family Holiday in Sri Lanka
Are you dreaming of an unforgettable family adventure? Look no further than the tropical paradise of Sri Lanka! A family holiday in Sri Lanka is not just a vacation; it's a journey filled with warmth, culture, and breathtaking scenery. But what does it mean to embark on a family holiday in this enchanting island nation?
What does a family holiday to Sri Lanka mean?
A family holiday in Sri Lanka means so much more than just a trip; it's an opportunity for families of all shapes and sizes to create cherished memories together. Whether you're traveling with babies, children, or elders, Sri Lanka offers a diverse range of experiences that cater to everyone's needs and desires.
Is it Safe to Travel to Sri Lanka as a Family in 2023?
Absolutely, yes! Sri Lanka is now a safe and secure destination for families seeking to explore its wonders together. The country has made significant strides in ensuring the safety of travelers, making it an ideal choice for your family holiday.
What are the basic things to plan for a family vacation in Sri Lanka?
When embarking on a family vacation in Sri Lanka, it's crucial to have a well-structured plan to ensure a smooth and enjoyable trip. Here are some basic things to consider:
Visa Requirements: Before you start your journey to Sri Lanka, make sure to arrange your visa. You have two options: you can obtain it online before your trip or get a visa on arrival at the airport. Ensure that you have the necessary documentation to avoid any hiccups during your arrival.
Accommodation Selection: Finding the right place to stay is essential for a family vacation. Most hotels in Sri Lanka offer family rooms that are perfect for accommodating a family or up to four adults. Check the available amenities and choose a comfortable and family-friendly lodging option.
Quality Guide and Transportation: To make the most of your family vacation, consider hiring a reliable guide and arranging for quality transportation services. It's ideal to have a large van or a mini-bus at your disposal to travel comfortably with your family.
Private Transportation vs. Public Transport: While Sri Lanka has public transportation options like buses and trains, it's often recommended for families to opt for private transportation. Public transport can be crowded with local commuters, making it challenging to stick to your tour plan. Private transportation allows you to travel at your own pace and visit attractions as you wish.
What kinds of things can we do as a family in Sri Lanka?
Sri Lanka offers a treasure trove of incredible experiences that families can enjoy together. Whether you're interested in history, nature, or adventure, there's something for everyone:
Cultural and Historical Exploration: Discover the rich history of Sri Lanka by visiting UNESCO World Heritage Sites and cultural landmarks. Share the fascinating stories of the past with your kids while exploring ancient temples, palaces, and historical cities.
Nature's Wonders: Get closer to nature by visiting lush rice fields and breathtaking tea plantations. Take your family on nature treks to explore the island's diverse landscapes and enjoy the vibrant flora and fauna in botanical gardens.
Scenic Train Journeys: Hop aboard one of Sri Lanka's scenic train journeys and witness stunning vistas. These train rides offer an opportunity for family bonding while marveling at the picturesque countryside.
Whale Watching in the Indian Ocean: Embark on an unforgettable adventure by going whale watching in the Indian Ocean. Spot magnificent marine creatures and create lasting memories with your family.
Beach Fun: Enjoy the sun and sand on Sri Lanka's beautiful beaches. Sunbathe, swim in the crystal-clear ocean, and build sandcastles with your little ones.
Safari Adventures: Take your family on an exciting safari in Sri Lanka's national parks. Witness diverse wildlife, including elephants, leopards, and exotic birds, in their natural habitats.
Elephant Encounters: Spend quality time with gentle giants by visiting elephant sanctuaries and orphanages. Your kids will cherish the opportunity to interact with these majestic creatures.
Homestay Experiences: Immerse yourself in local culture by opting for a homestay experience. Spend time with a local family, learn about their traditions, and savor authentic Sri Lankan cuisine.
Relaxation and Wellness: Indulge in spa treatments and relaxation sessions in serene settings. Pamper yourselves with massages and rejuvenating spa therapies.
These are just a few of the incredible experiences that await your family in Sri Lanka. With its diverse attractions and activities, this island nation provides a perfect backdrop for family bonding and creating cherished memories that will last a lifetime. So, pack your bags and get ready for an unforgettable family adventure in the heart of Sri Lanka!
Which one is better: Travel alone with family or book a family tour through a tour agency?


When it comes to exploring the wonders of Sri Lanka, you might wonder whether to go it alone or book a family tour through a reputable agency. Here's some insight to help you decide:
Booking Through a Tour Agency: Opting for a family tour through a trusted agency like ACT Sri Lanka can be a fantastic choice. It often proves to be affordable, safe, and highly efficient. Such agencies have the expertise to curate a well-rounded itinerary that caters to the needs and interests of your family. With years of experience, they can ensure a seamless travel experience, from accommodations to transportation and guided tours. It takes the stress out of planning and lets you focus on enjoying your family vacation to the fullest.
So, if you're seeking an affordable, safe, and hassle-free way to explore the beauty of Sri Lanka with your loved ones, a family tour through a reputable agency like ACT Sri Lanka may be the ideal choice. Their experience and expertise can turn your family holiday into a memorable and enriching adventure.
What is the ideal time to visit Sri Lanka with your family?
One of the great things about planning a family vacation to Sri Lanka is that there's no shortage of ideal times to visit. Sri Lanka experiences two distinct seasons. The West and South Coast season, running from November to May, is perfect for families seeking sunshine and beach adventures. During this time, you can enjoy the country's stunning beaches, explore cultural sites, and indulge in various outdoor activities.
On the other hand, if you're looking to visit the East Coast, the season starts from June and extends until October. This is an excellent choice for families who want to experience the beauty of the eastern part of Sri Lanka, known for its pristine beaches and tranquil atmosphere.
In essence, Sri Lanka offers year-round opportunities for family travel, and you can plan your vacation based on your preferences and interests. Whether you're chasing the sun, exploring cultural treasures, or simply enjoying quality family time, Sri Lanka has something special to offer throughout the year.



How many days are best to spend in Sri Lanka for a family vacation?


When it comes to planning your family vacation in Sri Lanka, the ideal duration largely depends on your preferences and what you'd like to explore. The good news is that Sri Lanka offers a variety of options to suit different lengths of stay.
For a well-rounded experience, consider spending 10, 12, 14, 18, 21, or even 27 days in this beautiful country. Sri Lanka is rich in diverse attractions, from cultural sites to stunning landscapes and wildlife. A longer stay allows you to immerse yourself in the local culture, visit historical landmarks, relax on pristine beaches, explore lush tea plantations, and embark on exciting adventures.
Moreover, since it's a precious opportunity to bond with your family, taking the time to truly savor the experience is invaluable. Whether you're looking for relaxation, adventure, or a mix of both, Sri Lanka has something to offer for families of all sizes and interests. So, choose the duration that suits your family best and embark on a memorable journey that will create lasting memories for years to come.
What is the budget for a family vacation in Sri Lanka?
When it comes to budgeting for a family vacation in Sri Lanka, flexibility is key. At ACT Sri Lanka, we understand that every family has unique requirements and financial considerations. That's why we specialize in creating tailor-made vacations that align with your specific needs and budget.
Whether you're looking for budget-friendly options or seeking a more luxurious experience, we can curate the perfect itinerary for your family. From affordable accommodations to high-end resorts and everything in between, we have access to a wide range of choices to match your financial plan.
Our commitment is to ensure that your family enjoys a memorable and stress-free vacation in Sri Lanka, regardless of your budget. So, rest assured that we can provide you with the best options that suit your financial preferences, allowing you to make the most of your family adventure in this beautiful island nation.
What is the best tour company to book a family vacation in Sri Lanka?
When it comes to booking the best family vacation in Sri Lanka, look no further than ACT Sri Lanka. With a wealth of experience in crafting unforgettable journeys, we've been the choice of countless travelers from around the globe. What sets us apart is our dedicated team of knowledgeable guides who are fluent in various languages, making communication effortless and ensuring a seamless experience for your family, no matter what language you speak.
Our commitment to your family's well-being goes beyond language fluency. We prioritize your safety, convenience, and comfort throughout your trip. From quality accommodations that cater to families and kids to secure and efficient transfers, we've got every detail covered.
ACT Sri Lanka isn't just any tour company; we're a registered and recognized tour operator in Sri Lanka. In fact, we're proud winners of the TripAdvisor Travelers' Choice Award in both 2022 and 2023. So, when you choose us for your family vacation, you're selecting a trusted partner with a proven track record of delivering exceptional and memorable journeys in the heart of Sri Lanka. Join us and let your family's adventure in Sri Lanka begin!
How to arrange a family vacation to Sri Lanka?


Arranging a memorable family vacation to Sri Lanka is just a message away! Whether you have questions, need assistance, or want to start planning your adventure, all you have to do is reach out to us via email or WhatsApp. Our dedicated team at ACT Sri Lanka is here to help you create the perfect family tour that suits your preferences and needs.
With our expertise and commitment to delivering exceptional experiences, we'll guide you every step of the way. From crafting a personalized itinerary to ensuring you have the best accommodations, safe transfers, and knowledgeable guides, we'll take care of all the details, making your dream vacation in Sri Lanka a reality. So, don't hesitate to get in touch, and let's embark on a journey to create beautiful family memories in the enchanting land of Sri Lanka!