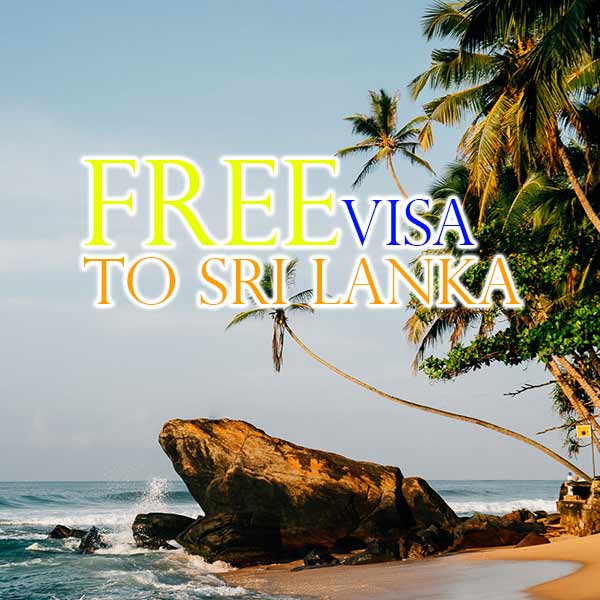 Free Visa to Sri Lanka
Free Visa to Sri Lanka, Sri Lanka's government has granted visa-free entry to visitors from seven countries. India, China, Russia & four mor
Sri Lanka's government has granted visa-free entry to visitors from seven countries
Sri Lanka's government has granted visa-free entry to visitors from seven countries. This program will be in effect until March 31, 2024. The eligible countries include India, China, Russia, Malaysia, Japan, Indonesia, and Thailand. The primary aim of this change is to attract more tourists to Sri Lanka, with the goal of reaching five million visitors in the years to come.
This initiative is designed to make it easier for tourists, saving them both time and money by eliminating the need for a visa application. The government expects that this move will entice more international travelers to consider Sri Lanka as their destination. Furthermore, there are plans to introduce an electronic ticketing system for various tourist sites in the country in the near future. It's worth noting that China has also added Sri Lanka to its list of approved countries for Chinese tourists to visit.
How long is the validity of the free visa?
The free visa is valid for a 30-day stay in Sri Lanka.
How can I obtain the free visa?
To get the free visa, simply present your passport at the immigration counters upon your arrival in Sri Lanka. Officials will grant you a visa for 30 days.
Can I stay in Sri Lanka for more than 30 days after the initial period?
Yes, you can stay longer, but you'll need to renew your visa through the Colombo Department of Immigration & Emigration.
Where is the Department of Immigration & Emigration located?
The department is located in Colombo at the following address: Department of Immigration and Emigration, Suhurupaya, Sri Subhuthipura Road, Battaramulla.
How long will the free visa project continue?
The free visa project is expected to end on March 31, 2024.
Which countries do not require a visa to visit Sri Lanka now?
Visitors from India, China, Russia, Japan, Malaysia, Indonesia, and Thailand do not need a visa to enter Sri Lanka.
Do children from the above countries need a visa?
No, children from these countries also do not need a visa to enter Sri Lanka until March 31, 2023.
Contact us to arrange your holiday in Sri Lanka. ACT Sri Lanka offers package tours, tailor-made tours, family holidays, honeymoon tours, nature and wildlife tours, day excursions, multi-day excursions, luxury holidays, and more. Click the buttons below to contact the operator for more details.