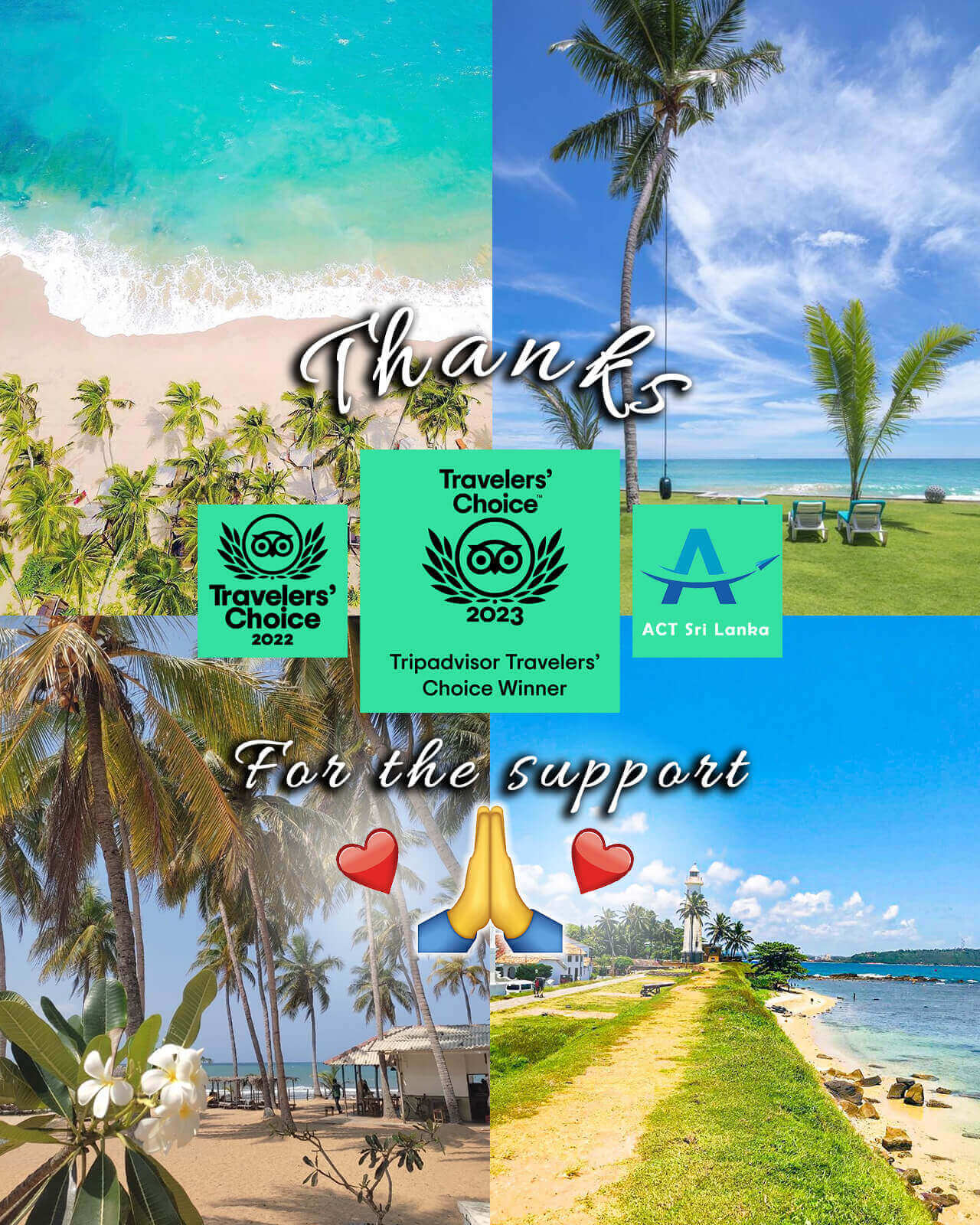 TripAdvisor Travelers' Choice Award 2023 Winner Tour Company in Sri Lanka
TripAdvisor Travelers' Choice Award 2023 Winner Tour Company in Sri Lanka
We are thrilled to announce that ACT Sri Lanka has been awarded the prestigious TripAdvisor Travelers' Choice Award for the second consecutive year! This recognition solidifies our position as the best tour company in Sri Lanka.
At ACT Sri Lanka, we take immense pride in curating exceptional travel experiences for our valued clients. We believe that every journey should be filled with wonder, adventure, and cultural discovery. Our team of passionate experts is dedicated to creating tailor-made tours that cater to the unique preferences and interests of each traveler.
With our extensive range of tours, we offer something for everyone visiting Sri Lanka. From exploring ancient historical sites to embarking on thrilling wildlife safaris, relaxing on pristine beaches, and immersing in local traditions and cuisine, we strive to showcase the best of Sri Lanka's rich heritage and natural beauty.
The TripAdvisor Travelers' Choice Award is a testament to our unwavering commitment to providing top-notch service, creating unforgettable memories, and exceeding the expectations of our clients. We are grateful for the trust and support shown by our clients, as their satisfaction is the driving force behind our success.
As we embark on this new chapter, we are excited to continue delivering extraordinary experiences and making dreams come true for those who choose to explore the enchanting island of Sri Lanka with ACT. Join us on this remarkable journey and let us create unforgettable memories together.
Book your next adventure with ACT Sri Lanka and discover the magic of this remarkable destination.
Thanks everyone…
Dear Valued Clients,
We would like to express our heartfelt gratitude to each and every one of you who has traveled with us in Sri Lanka. Your trust, support, and positive feedback have played a crucial role in helping us win the prestigious TripAdvisor Travelers' Choice Award for the second consecutive time.
This award is a testament to our commitment to providing exceptional experiences and outstanding service. We are truly honored to have been recognized among the top travel companies in Sri Lanka. None of this would have been possible without your continuous support and trust in our services.
We are dedicated to creating unforgettable journeys and ensuring that every moment of your trip is filled with joy, adventure, and cultural discovery. Your satisfaction is our ultimate reward, and we are grateful for the opportunity to have been a part of your travel experiences.
Once again, thank you for choosing us as your travel partner and for being a part of our success story. We are excited to continue creating extraordinary memories with you in the future.
Warmest regards,
ACT Sri Lanka