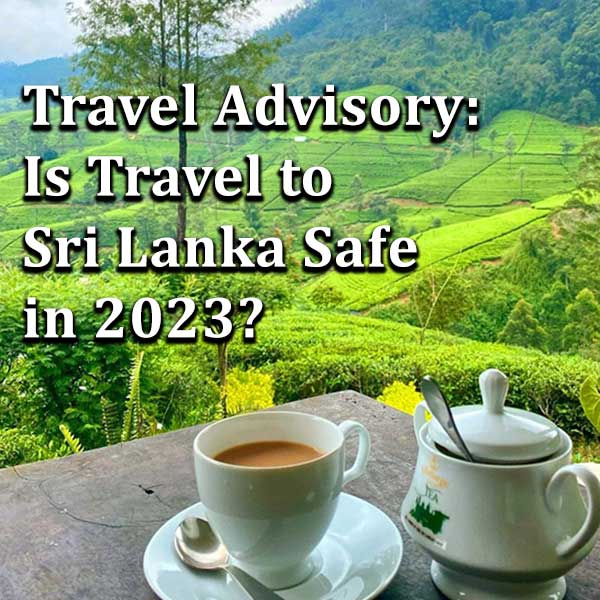 Travel Advisory: Is Travel to Sri Lanka Safe in 2023?
Discover the latest travel advisory for Sri Lanka in 2023.
Find out if it is safe to travel and explore this captivating destination. Plan your trip with confidence.
Travel Advisory: Is Travel to Sri Lanka Safe in 2023?
Answer is Yes. It's safe and secure now.
Contrary to misconceptions, Sri Lanka has always been a safe haven for tourists. While the country experienced some challenges in 2022, the local community has continuously strived to ensure a seamless and enjoyable vacation for visitors. Sri Lanka has undoubtedly emerged as a beloved destination for travelers, captivating them with its tropical island charm.
Despite the setbacks caused by the ongoing economic crisis, many tourists continue to choose Sri Lanka as their preferred holiday destination, seeking an unforgettable experience.
What has happened to the economic crisis in Sri Lanka?
Sri Lanka faced a severe economic crisis in 2022 and was on the verge of bankruptcy due to mounting debts. However, with a change in political leadership, the situation has taken a positive turn. Both international and local debts and loans have been restructured using globally approved methods. The International Monetary Fund (IMF) has granted a loan to help stabilize the country's finances.
As a result, the economic crisis has significantly improved. There are no longer queues for essential commodities such as fuel, gas, or food in Sri Lanka. Daily life has returned to normal, with people going to work and students attending school. Gas supplies are now being provided without delays. Additionally, several international gasoline distributing companies are set to commence operations in Sri Lanka in the near future, with some already having signed agreements with the government as of July 2023.
Do Sri Lankans experience power outages now?
No, there are no power outages in Sri Lanka at the moment. The electricity supply in Sri Lanka is uninterrupted, with power being available 24/7. All the power plants, including those using hydro, diesel, LNG, charcoal, wind, and solar energy, are operational.
The necessary measures have been taken to ensure a consistent supply of electricity, including the management of fuel supplies for power generation from sources such as diesel, LNG, and charcoal. As a result, the country is successfully meeting its electricity demands from the various power plants.
How is the political stability in Sri Lanka?
In July 2022, following extensive protests by Sri Lankans, the former president resigned from his position. According to the country's constitution, a new president was appointed and his appointment was confirmed by a majority vote in Parliament.
The new president has subsequently appointed a new set of ministers to the cabinet. These positive changes have gradually addressed the economic issues in the country and led to a stabilization of the political situation.
Is it safe for British tourists to travel to Sri Lanka?
Answer is Yes. The Sri Lankan people warmly welcome all tourists visiting Sri Lanka.
Tourists are free to travel and enjoy their holidays peacefully. As of June 2023, approximately 50,000 tourists holding UK passports have arrived in Sri Lanka since January 2023. Collectively, around 340,000 tourists from other European countries have also visited Sri Lanka during the same period.
According to the Sri Lankan Tourism Ministry, the total tourist arrivals to Sri Lanka from January to June 2023 is 624,874. These statistics are provided by the Sri Lankan Tourism Ministry.
Click Here to Read Stats Published by Sri Lanka Tourism
Click Here to Read the Travel Advisor issued by UK Embassy in Sri Lanka
What is the ideal time to travel to Sri Lanka?
You can visit Sri Lanka throughout the year, as it is a tropical country with different seasons. If you plan to travel from May to October, it is ideal to choose the eastern coast for your beach relaxation after visiting major excursion places. Popular beach cities on the east coast include Trincomalee, Passikudah, and Arugambay.
On the other hand, if you plan your visit from November to April, the west and south beaches are perfect for your beach rest after exploring the main excursion places. Well-known beach cities on the west and south coast include Negombo, Mt. Lavinia, Galle, Hikkaduwa, Mirissa, and Tangalle.
Remember to check the weather conditions and plan accordingly to make the most of your trip to Sri Lanka
How to Plan a Tour to Sri Lanka?
You can purchase ready-made tour packages to Sri Lanka from reputable tour operators in your country.
& To visit Sri Lanka, you will need a visa, which can be obtained in two ways: either through the online website or upon arrival at the airport.
However, if you prefer to support local tourism entities in Sri Lanka and help the local community, you can contact us to create a customized tour plan for your Sri Lankan holiday. And we are grateful for your support.
ACT Sri Lanka is a small tour business in Sri Lanka operated by a local team with over 10 years of experience in the tourism industry. We specialize in creating tailor-made tour packages based on our clients' budget and preferences. Our team consists of fluent English-speaking guides who provide professional and personalized service.
We offer package tours that include guided excursions, transportation, and hotel accommodations, as well as individual excursions and tailor-made holidays. You can reach us via email or WhatsApp, and our dedicated team is available 24/7 to assist you. ACT Sri Lanka is a registered business entity and holds a tourism operation license issued by the Sri Lankan Tourism Ministry, ensuring that we meet all necessary requirements.
As a testament to our quality service, we have received the Tripadvisor Travelers' Choice Awards for both 2022 and 2023. We are here to answer all your questions about visiting Sri Lanka and to help you plan your unforgettable vacation in this beautiful country