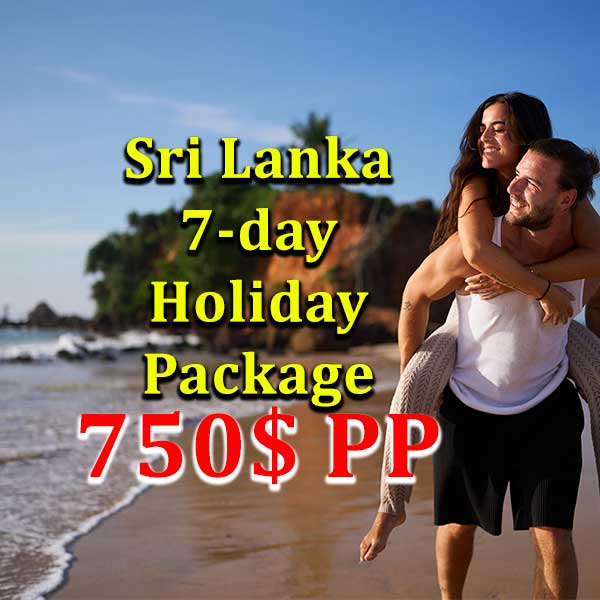 Coastal Adventure: Beaches, Wildlife, and Culture | Best 07 Day Tour in Sri Lanka
Best 07 Day Tour in Sri Lanka. Explore ancient temples, spot wildlife in Yala National Park, unwind on stunning beaches, and immerse yourself in rich culture. Book your dream 7-day tour now!
Discover the breathtaking beauty and cultural treasures of Sri Lanka's coastal wonders during this immersive 7-day journey. From the serene shores of Negombo to the historic Galle Dutch Fort and beyond, this tour combines relaxation, wildlife encounters, and cultural exploration for an unforgettable experience.
Day 1: Arrival & Coastal Bliss in Negombo
Arrive in Sri Lanka and relax by the shimmering Indian Ocean in Negombo.
Check in to a beachfront hotel and unwind from your journey.
Enjoy a delightful dinner featuring local flavors.
Overnight stay in Negombo.
Day 2: From Elephants to Kandy's Splendors
After breakfast, head to Pinnawala Elephant Orphanage to witness majestic elephants.
Explore the lush Peradeniya Royal Botanical Garden.
Visit the iconic Kandy Temple of the Tooth Relic.
Immerse in Sri Lankan culture with an enchanting dance show.
Dinner and overnight stay in Kandy.
Day 3: Towering Ambuluwawa to Ella's Tranquility
After breakfast, ascend the Ambuluwawa Tower for panoramic views.
Discover the art of tea-making with a visit to a Tea Factory and Tea Plantations.
Admire the beauty of Ramboda Falls en route to Ella.
Dinner and overnight stay in Ella.
Day 4: Peaks, Trains, and Falls in Ella
Witness the sunrise at Little Adams Peak.
Embark on a scenic short train ride through the lush landscapes.
Marvel at the architectural wonder of Nine Arch Bridge.
Refresh by the mesmerizing Ravana Falls.
Dinner and overnight stay in Yala.
Day 5: Safari Thrills and Coastal Charms
Enjoy an early morning safari in Yala National Park, home to diverse wildlife.
Journey to Mirissa's Coconut Treehills for breathtaking views.
Visit a Sea Turtle Farm to learn about conservation efforts.
Dinner and overnight stay in Unawatuna.
Day 6: Beach Bliss and Historic Marvels
Relax on Unawatuna's golden beaches, indulge in water sports or spa treatments.
Explore the UNESCO-listed Galle Dutch Fort and its iconic Lighthouse.
Witness a mesmerizing sunset over the Indian Ocean.
Dinner and overnight stay in Unawatuna.
Day 7: Farewell to the Coast
Enjoy a leisurely morning by the beach, embracing the tranquility.
Check out from the hotel and transfer to Colombo.
Engage in last-minute souvenir shopping at local markets.
Depart with cherished memories of Sri Lanka's coastal wonders.
Experience the heartwarming sight of elephants at Pinnawala Elephant Orphanage.
Explore the verdant Peradeniya Royal Botanical Garden and Kandy's sacred temple.
Soak in the panoramic views from Ambuluwawa Tower.
Journey through tea plantations and marvel at Ramboda Falls.
Witness the stunning sunrise at Little Adams Peak and the architectural marvel of Nine Arch Bridge.
Thrill in a Yala National Park safari to spot diverse wildlife.
Immerse in beachside bliss in Mirissa and Unawatuna.
Explore the historic Galle Dutch Fort and watch the sun set over the Indian Ocean.
Accommodation in comfortable hotels throughout the tour
Transportation in a private air-conditioned vehicle
Professional English-speaking guide
Entrance fees to attractions and national parks as per itinerary
Daily breakfast & dinner
Airport transfers
International Flights , Visa Fees, Covid Insurance or Anything Related
Lunch or Extra Meals
Any Personal Expenses
Travel Insurance
Gratuities
Optional Activities
Early Check in & Late Check Out
Alcoholic & Non Alcoholic Beverages 
Additional Transfers in case tour group is having different flight details
Starting from 750 USD per person.
** The minimum requirement for a group is 02 people. The above price is applicable for summer holidays. For winter holidays pricing, kindly get in touch with us.