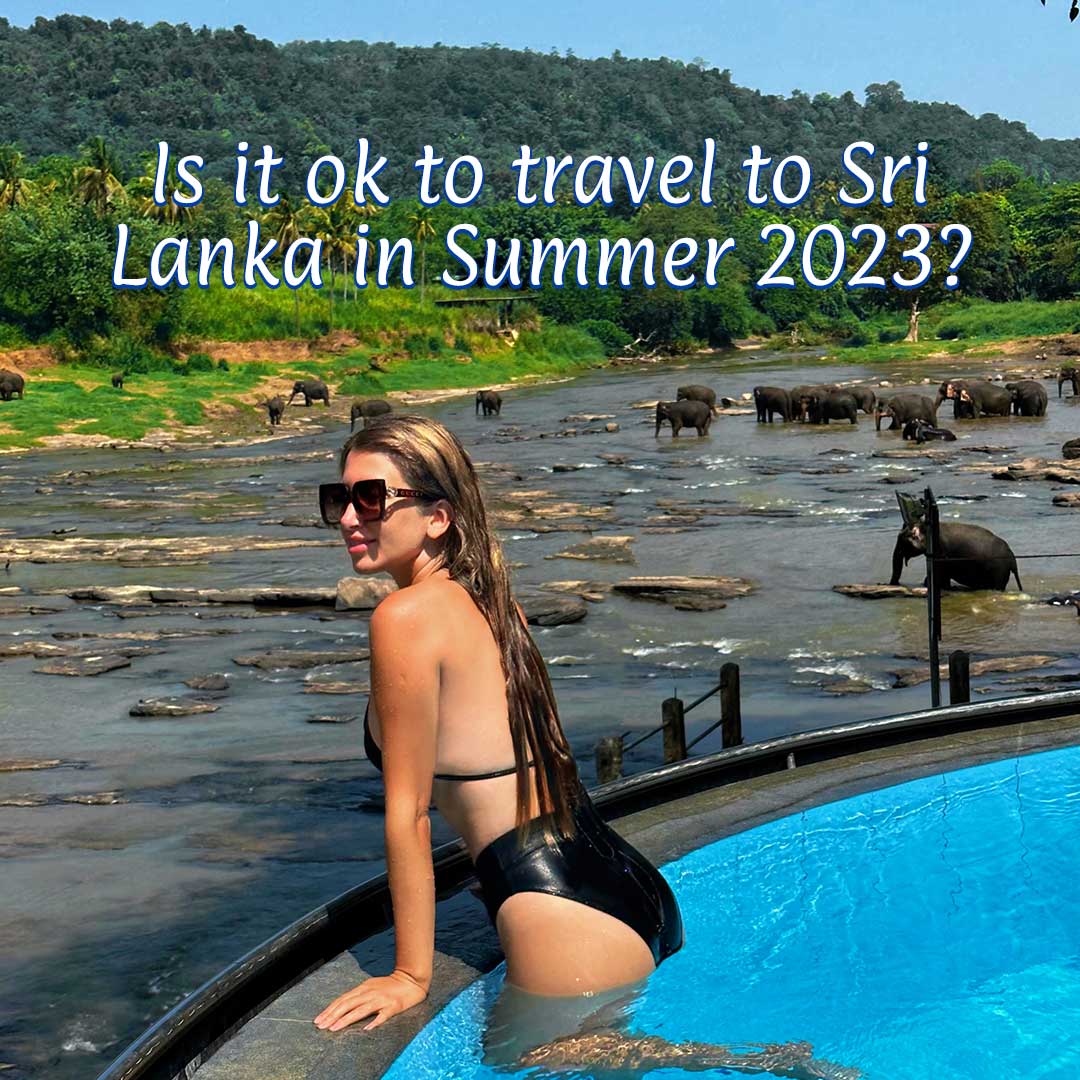 Is it ok to travel to Sri Lanka in Summer 2023?
And the simple but honest answer is, "Oh, hell YEAH !"
Sri Lanka is considered a year-round tourist destination which can be visited anytime of a year, with its tropical climate and diverse attractions. The following facts will convince you why it's just not "a" but "the best" year-round travel destination.
Is Sri Lanka the best year-round travel destination ?
Sri Lanka, also known as the "Pearl of the Indian Ocean," is a beautiful island country located in South Asia with a rich history, diverse culture, stunning landscapes, and unique experiences to offer.
Is it ok to travel to Sri Lanka in Summer –  May to October
May to October is considered the off-season or the southwest monsoon season in Sri Lanka, which means the weather can be quite unpredictable with frequent rainfall, especially in the southwestern part of the country. But fortunately, apart from southwestern part, the rest of the country is not affected by rainfall during this time where you can experience the ancient cities and wildlife sanctuaries. Only significant thing you will miss is the southern beaches; but hey, it wouldn't be a problem at all. Why ? because you can shift your beach stay to the eastern coast which has more beautiful beaches with light-golden sand and crystal blue water.
This paradise island nation, located in the Indian Ocean, offers a range of activities and experiences for travelers throughout the year.
What are the top unique experiences you can have in Sri Lanka ?
Explore Ancient Cities: This tour focuses on Sri Lanka's cultural heritage and includes visits to ancient cities such as Anuradhapura, Polonnaruwa, and Sigiriya.
Wildlife Safaris: Sri Lanka is home to a diverse range of wildlife, including elephants, leopards, sloth bears and many species of birds. You can take a wildlife safari in one of the country's best national parks and nature reserves.
Lush Green Hill Country: The hill country of Sri Lanka is famous for its tea plantations, scenic landscapes, remote rainforests and cool climate. Taking a train ride on the iconic "upcountry" train from Kandy or Nuwara Eliya to Ella is a unique experience that offers panoramic views of the picturesque surroundings, passing through numerous tunnels, bridges, and tea estates.
Beach Happiness: Sri Lanka has some of the most beautiful beaches in the world. From the popular southern beach towns of Bentota, Mirissa, and Unawatuna to the secluded and pristine eastern coast  beaches of Arugam Bay, Trincomalee and Pasikuda; you can relax, swim, surf, or indulge in water sports while enjoying the beauty of the Indian Ocean.
Adventure Activities: If you're looking for an adrenaline rush, an adventure tour in Sri Lanka might be for you. Activities can include white-water rafting, hiking, surfing, mountain trekking, hot-air ballooning and many more.
Ayurveda and Wellness: Sri Lanka has a long tradition of Ayurveda, an ancient system of medicine that focuses on holistic well-being. You can indulge in Ayurvedic treatments, spa therapies, and yoga and meditation sessions at one of the many wellness retreats scattered across the country, offering a unique and rejuvenating experience for the body, mind, and soul.
Culinary Delights: Sri Lankan cuisine is known for its rich flavors, aromatic spices, and unique dishes. Sri lankan spices have a reputation for being the best in taste, aroma and nutritiousness. You can indulge in local delicacies such as rice and curry, hoppers, kottu roti, and string hoppers.
However, it's important to note that Sri Lanka has two monsoon seasons which can affect certain regions at different times of the year, so it's essential to plan your trip accordingly. That's why you need to get assistance from a local travel expert to organize your holiday in Sri Lanka in summer.  It's always better to plan a custom made tour itinerary rather than going for a regular pre-planned tour package. ACT Sri Lanka is one of the best travel agents in Sri Lanka that offers best tour packages which will perfectly align with your preferences.
Why is a tailor made Sri Lanka tour package best for you  ?
Simply because it's planned according to your wishes and preferences. It gives you the opportunity to decide your choice of accommodation, your choice of transport, the activities you would like to experience  and  the choice of places you would wish to visit.
What type of Sri Lanka tour packages are available to select ?
There are many great tour packages available in Sri Lanka, depending on your interests and budget. Whether it's a family holiday, romantic couple getaway, tour for a group of friends or a summer vacation for school/university students; ACT Sri Lanka team has the travel expertise and the experience to cater all your requirements and personally plan out the Sri lankan holiday of your dreams.
How much would it generally cost for a tour in Sri lanka?
7 Day tour – 740 USD Per Person
10 Day tour – 950 USD Per Person
14 Day tour – 1350 USD Per Person
* This cost is for a minimum 6 pax group or family tour.

Contact us to get more details about these packages.
What tour packages are best for European travelers ?
ACT Sri Lanka has specially designed tour packages for European travelers (couples, families and groups) who wish to visit Sri Lanka on their summer vacation particularly in July and August.  
Why ACT Sri Lanka?
As a registered locally owned Sri Lanka Tourist Board approved Destination Management Company, ACT Sri Lanka is dedicated to organize tours in Sri Lanka to any visitor who wishes to seek the best tour package in Sri Lanka. Our range of Sri lanka tours spread from beach holidays, wildlife safaris, scenic train trips, wellness retreats, heritage sightseeing, cultural experiences and everything in between.
Our sole purpose is to create an unforgettable experience for our customers. In order to deliver excellence, we always work closely with you to curate the best tour itinerary in Sri Lanka which matches your preference and make your dream holiday come true.
Furthermore, it's important to be aware of any travel advisories and safety precautions, and to follow local regulations and customs while visiting Sri Lanka. So, make sure to be well informed and plan your trip accordingly to have a wonderful experience in this resplendent  island nation.
Enjoy the unique experiences Sri Lanka has to offer all year-round !
Sri Lanka awaits you!