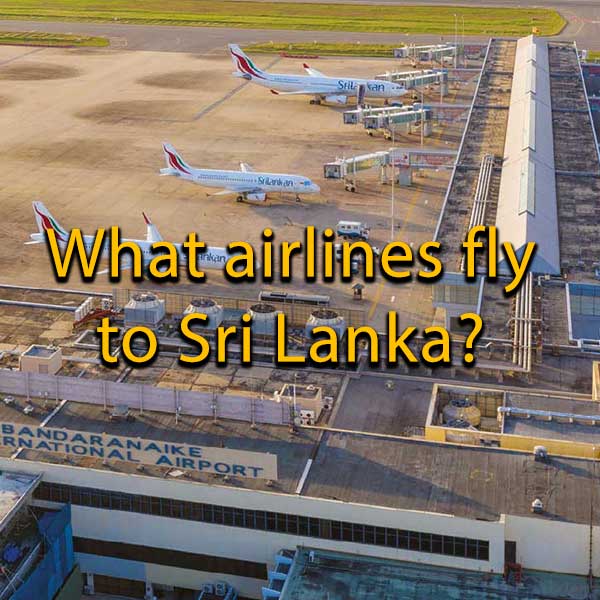 What airlines fly to Sri Lanka?
Welcome to our comprehensive guide about airlines that offer flights to the captivating island destination of Sri Lanka. This beautiful country is situated in the Indian Ocean and is known for its rich culture, stunning landscapes, and exciting experiences.
If you're planning a trip to this tropical paradise, it's important to know which airlines can take you there. One of the main entry points is the Bandaranayake International Airport (BIA), located in Katunayake and identified by the airport code CMB.
In the upcoming sections, we'll explore the various airlines that serve this vibrant nation, providing you with opportunities for adventurous exploration.
What airlines are currently flying to Sri Lanka?
As of August 2023, the following airlines are operating to Colombo Airport (CMB).
Emirates – from Dubai
Qatar Airways – from Doha
Fly Dubai – from Dubai
Oman Air – from Muscat
Gulf Air – from Bahrain & Male 
Etihad Airways – from Abu Dhabi & Male
Turkish Airlines – from Istanbul (Ataturk) & Male
Cathay Pacific – from Hong Kong
Singapore Airlines – Singapore
Jazeera Airways – from Kuwait 
Air Arabia – from Sharjah
Salam Air – from Muscat
Air India – from Delhi
Indi Go – from Chennai
Vistara Airways – from Mumbai
Malaysia Airways – from Kuala Lumpur 
Malindo Air – from Kuala Lumpur
Air Asia –  from Kuala Lumpur
Aeroflot – from  Moscow
China Eastern – from Shanghai
Air China – from Chengdu Tianfu
Which airlines are planning to resume flights to Sri Lanka after end of October 2023?
As of August 2023, based on information from various sources, the following airlines are planning to resume flights to Colombo Airport (CMB) starting from the end of October 2023. This provides a great opportunity for you to plan your winter vacation to Sri Lanka.
Edelweiss Air – from Zurich
Arkia – from Israel 
Turkish Airlines – Direct flights from Istanbul 
Aeroflot – Direct flights from few other cities
Air France – from Paris
Lot Polish – from Warsaw
Batik Air – from Kuala Lumpur 
Thai Lion Air – from Thailand 
Spice Jets – from Madurai
Check and reserve your air tickets now and start planning your winter holidays in Sri Lanka!
Discover a Variety of Tours with ACT Sri Lanka (Airlines Crew Tours)
Embark on an incredible journey to Sri Lanka with ACT Sri Lanka (Airlines Crew Tours), your go-to source for a wide array of captivating tours. From immersive Package Tours to exciting Short Tours and efficient Business Tours, we have something for every traveler. Whether you're seeking transport solutions, romantic Honeymoon Tours, memorable Family Holidays, or Tailor-Made Tours designed to suit your preferences, we've got you covered. For those who crave unique experiences, our Off-the-Beaten-Path Packages are the perfect choice. We specialize in providing comprehensive tour options that cater to your desires, ensuring an unforgettable adventure in the heart of Sri Lanka.
Expert Guides Speaking Your Language
Language should never be a barrier to enjoying your vacation. At ACT Sri Lanka, we take pride in offering multilingual guides proficient in various languages including English, Arabic, Spanish, Italian, Russian, German, Polish, Japanese, Hindi, and Tamil. No matter where you're from, our guides will make sure you feel at home during your exploration of Sri Lanka's diverse culture, history, and natural beauty.
Comfortable and Convenient Transportation
Make your journey across Sri Lanka comfortable and convenient with our fleet of vehicles equipped with air conditioning. We understand that a seamless travel experience is important, which is why we provide you with well-maintained vehicles that suit your requirements. Whether you're traveling solo, as a couple, or with a group, our transportation options ensure that you travel in style and comfort.
Exceptional Accommodation Partnerships
Rest easy knowing that we have established partnerships with over 1000 hotels throughout Sri Lanka. Your stay will be well taken care of, offering a range of options from luxury to budget-friendly accommodations. Our network of hotels ensures that you have a cozy and convenient place to relax after your day's adventures.
Trusted Since 2019
Since our establishment in 2019, ACT Sri Lanka (Airlines Crew Tours) has been dedicated to curating exceptional travel experiences. With our commitment to quality, diverse tour offerings, language flexibility, comfortable transportation, and well-connected accommodations, we're your ideal partner in planning the perfect winter holiday in Sri Lanka. Reserve your air tickets now and set the wheels in motion for an unforgettable journey!
How to Reserve or Book a Tour to Sri Lanka ?
Discover seamless booking with ACT Sri Lanka (Airlines Crew Tours). Our dedicated representatives are at your service 24×7, ensuring your travel plans are met with convenience and efficiency. Whether you prefer the traditional route of emailing us at info@airlinescrewtours.com or the instant connectivity of WhatsApp through the icons below, reaching out to us is a breeze. Let us know your preferences, and we'll be thrilled to tailor a tour just for you. Your dream adventure in Sri Lanka awaits – start the booking process today!